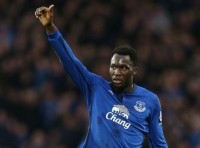 Chelsea manager Thomas Tuchel has raved about Romelu Lukaku after the former Manchester United and Inter Milan striker scored against Zenit Saint Petersburg.
The Premier League club began their Champions League campaign with a 1-0 win against Zenit at Stamford Bridge in London in Group H on Tuesday evening.
Belgium international striker Lukaku, signed from Inter Milan in the summer transfer window, found the back of the net for the defending European champions in the 69th minute.
The 28-year-old striker has scored three goals in three Premier League appearances for the London club so far this season.
Tuchel told Chelsea's official website about Lukaku: "It was a very, very good and dangerous ball because it comes from a difficult position to defend around the box. The target was the second post with Romelu and Kai was also there.
'The performance for Romelu was not easy, we did not create many chances for him, we did not create many deliveries, but he is the type of guy who does not lose confidence and belief, and that's why he's here and that makes him a world-class striker.
"You don't find many strikers of that quality and the guys who really score regularly for their teams are so, so important because the goal changes the whole momentum of the match. It gives the whole team a lot of belief to know that maybe one half-chance or one chance is enough to make him score.
"And it's more than just talent that he brings because he has the belief, he takes pressure off other guys' shoulders, he has the personality not to be impatient or to lose confidence."
Lukaku can be backed at 7/1 on Betfair to win up as the top scorer in the Champions League this season.