Odds Comparison
Our odds comparison service is designed to help you find the best available odds offered on every single game you can think of, which should save you a lot of time as you won't have to visit every bookmaker to check their odds on a certain match. Rather than doing that you can visit our football odds comparison service, see which bookie offers the highest price on the match in question and go directly to their website. You just need to find the market you want to bet on and we'll take care of everything else.
It is important to point out that the odds comparison service will not be covering any of the US bookmakers, but the good news is that you can still find out everything you need to know about these on our US Friendly Sportsbooks page. In order to make the most out of the football odds comparison section and increase your bankroll, you should open account at multiple bookies, as only then you will have the chance to bet at the highest prices available. Having multiple betting accounts is absolutely essential if you want to start making money from online betting.
Hot Offer This Month!
3 Million People Can't Be Wrong!!

Receive a £25 Free Bet or Cashback up to £1000 !!!
Why we like this bookie: Largest Betting Exchange. Continuous Innovation & Growth. Industry Leader in Gambling!

Gaming offered: In-Play (Including football, horse racing, basketball, tennis, UFC etc.), Betting Exchange, Mobile Betting, Horse Racing, Live Casino etc.
Read More
How to Capitalize on Football Odds Comparison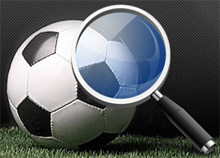 One of the first rules that lead to successful sports betting is that a bettor should open accounts at multiple bookies so that they would have the chance to place the bets at the highest prices available. The next step is to find a match he wants to bet on and start searching for the highest price, which could take up quite a bit of time. That is exactly why we have created a unique bookmakers odds comparison service, which will save you a lot of time and effort. The service will be displaying the highest odds available on the game in question and the bookmaker offering them, so all you need to do is follow the link next to the odds and directly visit the bookie's website. All football matches on offer will be covered, so you can rest assured as we will find the best odds on the market for you.
Our odds comparison for soccer will give you a chance to always have access to the highest prices on the market, which is one of the strategies that can help boost your total bankroll. These days when we have a huge number of online bookmakers, the odds can vary a great deal from one bookie to the next, so all you need to do is use our football odds comparison service to find the best prices available and visit the bookmaker in question to place your bet. It doesn't get much easier than that. While players betting only on singles can profit a great deal from this arrangement, those betting on multiples could find this service even more helpful, given that finding the highest prices for every leg of your multiple can make a huge difference to total returns. Checking the odds comparison service regularly is unlikely to take up much of your time, bit it can yield great benefits if used correctly.