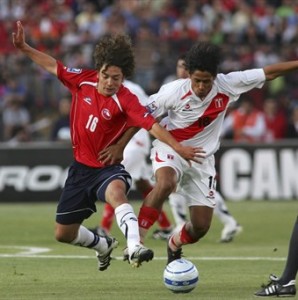 Hosts Chile are just one step away from reaching the fifth Copa America final, but they do need to see off in-form Peru side in the semis.
La Blanquirroja impressed to beat Bolivia in the quarter-finals and they now aim to produce another major shock and make it to the 2015 Copa America final.
Chile had entered the final stages of Copa America tournament on a number of occasions since their first appearance in 1916, but the team are still searching for that elusive first trophy.
Having achieved five third-place finishes, while losing in the final four times, La Roja were determined to finally end the barren run on home soil, and they definitely appear to be on the right track.
Chile eased off to the first place in their group by taking seven points from four matches, but they were then pitted against holders Uruguay in the quarter-final.
And while La Roja were the better team, they largely struggled to break the hard-working La Celeste, with Gonzalo Jara's provocation on Edinson Cavani changing the course of the match and allowing the hosts to score the winning goal through Mauricio Isla.
The centre-back has since received a three-match ban for his involvement in the incident, with Miiko Albornoz tipped to replace him in the starting line-up.
Chile are now set to battle in-form Peru for a place in the final, with La Roja priced at 1.50 (1/2) to win the match in ninety minutes.
Probable starting line-up (4-3-1-2): Bravo – Isla, Medel, Mena, Albornoz – Vidal, Diaz, Aranguiz – Valdivia – Vargas, Sanchez.
Peru were placed in arguably the strongest group at the 2015 Copa America, so no wonder that many believed Ricardo Gareca's side would not get past the group stage.
However, La Blaquirroja largely impressed in the opening exchanges, even if their good performance against Brazil was ultimately not rewarded.
Peru showed a great deal of character to defeat Venzuela at a time when even one point would probably end their campaign, before holding Colombia to a goalless draw to secure the second position ahead of the quarter-finals.
That proved crucial for team's performance in the knockout stages seeing as they were pitted against minnows Bolivia, where Paolo Guerrero's hat-trick proved enough for La Blanquirroja to qualify for the semi-final.
Peru coach Ricardo Gareca will have first team regulars Carlos Lobaton and Josepmir Ballon back from suspension, but Claudio Pizarro may be sacrificed if the boss decides to add another player to the centre of the park.
His side are seen as major underdogs in the first semi-final, but it is important to note that La Blanquirroja are 4.40 (17/5) to make it to the final.
Probable starting line-up (4-4-1-1): Gallese – Advincula, Zambrano, Ascues, Vargas – Cueva, Lobaton, Ballon, Carrillo – Farfan – Guerrero.