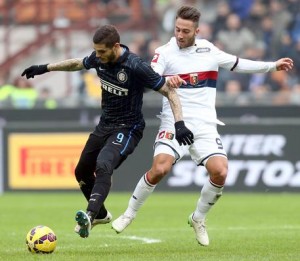 Napoli are ready to make Mauro Icardi one of their highest paid footballers as they want him to replace Gonzalo Higuain, according to Sky Sport Italia.
The Azzurri are set to receive around €90 million from the sale of Higuain to Juventus and they are eager to replace him with the Inter Milan striker.
Even though their initial bid for €42 million was rejected, Napoli are confident they will eventually find an agreement with the Nerazzurri, especially seeing that the forward is eager to leave Stadio Giuseppe Meazza.
Icardi has been offered a bumper deal at Stadio San Paolo, with a five-year contract worth €5 million per campaign and also including 50% of the player's image rights and a €100 million release clause.
On top of that, the striker and his wife/agent Wanda Nara will appear in Aurelio de Laurentiis' next movie to cement their celebrity status.
Considering the poor financial situation they are in, Inter Milan could really use money from Icardi sale, although they are obviously looking to secure the best possible deal.
Napoli are expected to make few more high-profile signings after Higuain leaves, and they can now be backed at 8.0 (7/1) to finally lift the Serie A trophy.