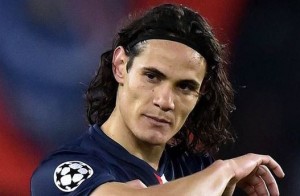 Uruguay striker's growing frustration at Paris Saint-Germain has started to affect the entire team and Edinson Cavani could be allowed to leave in the January transfer window for the benefit of the team.
Laurent Blanc has admitted that Cavani made his dissatisfaction with his current position in the team public, but refuses to dwell on the reported problems with the 28-year-old forward.
Edinson Cavani signed for PSG in 2013 from Palermo, but has spent much of his time in France playing second fiddle to Sweden powerhouse Zlatan Ibrahimovic.
Cavani has been forced to play on the flanks in order to make room for PSG's first star, but he still managed to keep his scoring records high during the last three years he spent at the Parc des Princes.
Uruguay international has netted 13 time in 24 appearances this season already, and is determined to force his way into the desired position on the field.
Paris Saint-Germain manager confirmed that he held a staff meeting in Doha with a couple of his senior players including Zlatan Ibrahimovic, Thiago Silva and Matuidi confessing that Edinson Cavani has been one of the topics.
"We discussed in for a specific problem, a behavioural problem. Cavani's complaints have to be dealt with, but my job is to think of the entire squad as a collective. The desires of the individual can't affect the rest of the team," reports Le Parisien, suggesting that a possible transfer out of Paris is a possibility.
Edinson Cavani has been the subject of transfer speculation for some time now, and has been repeatedly linked with a move to the Premier League.
Manchester United and Arsenal are thought to be more than willing to explore the option of signing the 28-year-old in January and have reportedly be given the green light to continue their pursuit for the Uruguay forward.
The Gunners had attempted to sign the powerful striker last summer, but their interest in that time was not met with encouragement from the French champions.
PSG continue their title run this weekend at Toulouse and are firm favourites with 1.44 (4/9) at Coral to claim the maximum three points.