Horse Race Analysis
All Major US Races
Accepts US Players

Register Now

£25 Free Bet
Live Racing Online
Many Cashbacks

Register Now

Horse Form & Stats
Lots of Promotions
Free Live Stream

Register Now
Kentucky Derby Betting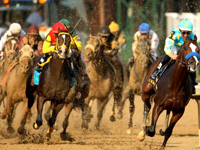 Horse races are among the things that fascinate a lot of people all over the world. Racing events like the Kentucky Derby are participated by thousands of horse racing fans and bettors. During this event, the Kentucky derby betting is among the things that make it more fun. Those who place their bets normally treat this as a serious matter and they would usually devote a lot of their time researching about it.
Some bettors would rely on pure luck while others, especially those who risk a lot of money, try to look for ways on how to make sure that they will win. Doing a bit of research before you place your bets is really very beneficial especially to those who are new to this kind of game. Although you may find those who base their bets on birthdays or lucky numbers, researching will always be a key to winning a bet. Below are some important tips that you need to consider before you place your bet during the Kentucky Derby.
Horse Racing Ranking
Bonus
US
Bonus
Match
Min.
Deposit
Rating
Review/
Play Now
Victor Chandler
- Early Prices
- Radio
£25
100%
£5
5

The Best!
Paddy Power
- Live Commentary
- Results
€50
100%
€5
4.5

Superb!
Betfair Racing
- Racing News and Tips
- Form/Results/Stats
£25
100%
£10
4.5

Superb!
Latest Kentucky Derby Winners
| | | | | |
| --- | --- | --- | --- | --- |
| Year | Winning Horse | Jockey | Trainer | Owner |
| 2012 | I'll Have Another | Mario Gutierrez | Doug O'Neill | J. Paul Reddam |
| 2011 | Animal Kingdom | John Velazquez | H. Graham Motion | Team Valor |
| 2010 | Super Saver | Calvin Borel | Todd Pletcher | WinStar Farm |
| 2009 | Mine That Bird | Calvin Borel | Bennie L. Woolley, Jr. | Double Eagle Ranch |
| 2008 | Big Brown | Kent Desormeaux | Richard E. Dutrow, Jr. | IEAH Stables / P. Pompa |
Participating in Kentucky Derby Races & Wager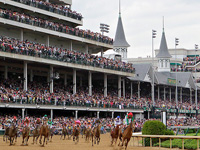 Considering how the participants perform is very important. If you want to win in Kentucky Derby betting, you will need to understand how the race works. During this event, horses race for a mile and a quarter and that makes it longer than those other races that horses participate on. Those participants who were regarded as pacesetters may not be able to keep up an excellent speed since this race is much longer. You need to look for those that have a potential to finish the race strongly. Those horses who start off slowly but gain an excellent speed as the race continues can be a good bet. The jockey is also an important element here so make sure that you select a good pair.
The second thing that you need to consider is the starting position. The position where a horse starts during the race is very crucial. A lot of people would normally think that the horse that gets the number 1 post position will finish the race first. Those who get this certain position will normally have the shortest distance to the finish line, however, they are also the ones who usually get pinned against the racetrack's rail. Since 1988, there is no horse that won the competition that was from the number 1 post. The horses that start in the middle post are usually those that have a greater tendency to finish the race first.
The weather is also something that you need to consider. If the weather forecast says that it is going to rain the entire rain, you have to beware. Apparently, rain can make the racetrack really wet and this will cause a lot of changes in the race. The mudders in the race are those that you need to look for during this kind of whether because these horses tend to perform excellently on a track that's wet. However, finding mudders are not an easy task so you really need to do a lot of research about some of the horses's histories.
Luck can sometimes allow you to win a bet. However, if you want to make sure that you have a bigger chance of winning at a Kentucky Derby betting, you will need to do your own part. Check out some sites that offer ideas and tips regarding this race.
More information:

Location: Churchill Downs, Louisville, Kentucky, USA
Address: Churchill Downs, 700 Central Avenue, Louisville, KY 40208 (see map)
Phone: +1 502.636.4400
When: Every year in May
Race Type: Thoroughbred
Distance: 1¼ miles (10 furlongs)
Website: http://www.kentuckyderby.com/