Horse Race Analysis
All Major US Races
Accepts US Players

Register Now

£25 Free Bet
Live Racing Online
Many Cashbacks

Register Now

Horse Form & Stats
Lots of Promotions
Free Live Stream

Register Now
Breeders' Cup Betting
The Breeders' Cup is considered as the American horse racing season's biggest event. With over fourteen races occurring and prize money amounting to more than £25m, Breeders Cup betting is surely the most popular in flat racing. The horse racing world's attention will shift to the Santa Anita in California as the world's best horses handle California's best racecourse's dirt and turf this November.The yearly series of most Grade I thoroughbred races is this horse race. The Breeders' Cup Limited operates this race. The company was founded back in 1982. The race was only a 1 day event from its birth in 1984 until 2006. In 2007, they decided to extend the event to two days. Although the location changes every single year, all possible venues are still going to be in the United States.
The number of people who attend this event takes the fourth or fifth place in North America. Its attendance normally exceeds those of the other races. The races that have greater attendance are the Kentucky Oats, Preakness Stakes and the Kentucky Derby. The Belmont Stakes is also participated by a lot of people in some years.
Horse Racing Ranking
Bonus
US
Bonus
Match
Min.
Deposit
Rating
Review/
Play Now
Victor Chandler
- Early Prices
- Radio
£25
100%
£5
5

The Best!
Betfair Racing
- Racing News and Tips
- Form/Results/Stats
£25
100%
£10
4.5

Superb!
William Hill
- Racing Post
- William Hill TV
£25
100%
£10
4.5

Superb!
Horse Racing News
September 30, 2023
Participating in Breeders' Cup Races & Wager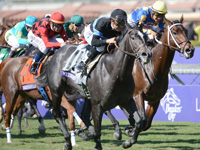 The Breeders' Cup will take place in Santa Anita Park in California from November 2 until November 3. Santa Anita will be hosting this event for the sixth time already. The two-day horseracing event will be featuring a total of fourteen races that will be amounting to over $26 million dollars. Bettors will surely enjoy participating in the Breeders' Cup betting as it gets more well-known each year. Back in the early years, the race was only held during Saturdays. However, it was extended to two days making it Friday and Saturday.
The Breeder's Cup allows a maximum of fourteen starters in each of its races except the Dirt Mile. The Dirt Mile can only allow up to 12 starters max. A field selection process was adopted by the Breeder's Cup limited in order for them to choose the horses that will participate in the different races. The process will rank runners basing on a panel of racing experts' judgments, a point system and how they perform in the Breeder's Cup Challenge Race.
Horse racing enthusiasts and bettors can select two methods in placing their bets. They could either bet while watching the game live in the venue or they can choose to bet online. People who cannot witness the event live usually place their bets online. There are many websites that cater to Breeders' Cup betting that people can access. All they need to do is find the best and most reputable website available. Doing some research before signing up to a site will be a way of protecting you and your money. Researching will only take a while. Asking for recommendations from people you trust or from experts will be an easier way of finding a good site. Once you have found a reputable site that will allow you to place your bets, you can now start signing in.
More information:

Location: Changes yearly
Address: Breeders' Cup Limited, Kentucky, 2525 Harrodsburg Road, Lexington, KY 40504-4230 (see map)
Phone: +1 (859) 223-5444 or +1 (800) 722-3287
When: Every year in late October or early November
Race Type: Thoroughbred
Distance: Varies for individual races
Website: http://www.breederscup.com/