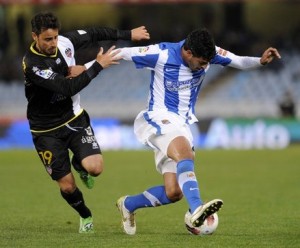 Spanish La Liga is such an evenly matched competition that teams that achieve a top table finish only escape the drop by a couple of points, so picking the sides expected to avoid the relegation struggle and finish the campaign in mid table will be no easy task. These are exactly the sides that will be featured in part 2 of our La Liga season preview, but be sure to check part 1 and part 3 as well, in order to see what you can expect from the title challengers, top 4 hopefuls and relegation strugglers.
GETAFE
Some shrewd transfer dealings have helped Getafe establish themselves as a genuine mid table side in La Liga despite the club operating on a tight budget. Los Azulones have done brilliantly to create a team that mostly consist of players rejected from Spain's top sides, with Miguel Torres, Pedro Leon, Alexis and Juan Valera all kick-starting their careers at Coliseum Alfonso Perez. Coach Luis Garcia now have an excellent team at his disposal, with a decent strength in depth, and this does look like the best Getafe team in years. Having said that, I expect El Geta to improve on the 11th-place finish from last season, and maybe they can even enter the race for European places. Strong showings at home and a positive approach on the travels has proved to be a perfect combination for the club from the suburbs of Madrid.
Last season: 11th
Important arrivals: Lafita (Zaragoza), David Abraham (Basel), Xavi Torres (Levante).
Important departures: Cata Diaz (Atletico Madrid), Francisco Casquero (Almeria), Oscar Ustari (Boca Juniors), Pedro Rios (Levante).
Probable starting line-up (4-2-3-1): Moya – Valera, Alexis, Abraham, Torres – Michel, Lacen – Pedro Leon, Lafita, Diego Castro – Fedor.
Prediction: Mid table finish
ESPANYOL
Mostly thanks to impressive home performances, Espanyol spent much of the league campaign fighting for European places, but the dismal finish of the championship saw them slip to 14th place in the standings. Boss Mauricio Pochettino now need to find a way to avoid a similar scenario this term, and that could be one of the reasons why he opted to sign three very experienced players in Simao Sabrosa, Joan Capdevila and Digo Colotto. On the other hand, talented youngsters Wakaso Mubarak, Sergio Tejera and Samuele Longo have been brought to increase competition for places, while playmaker Joan Verdu is again expected to have a key role in the side. This Espanyol team definitely have enough quality for a top table finish, but it remains to be seen whether they can finally start playing to their potential.
Last season: 14th
Important arrivals: Simao Sabrosa (Besiktas), Joan Capdevila (Benfica), Wakaso Mubarak (Villarreal), Sergio Tejera (Mallorca), Diego Colotto (Deportivo La Coruna), Samuele Longo (Inter, loan).
Important departures: Walter Pandiani (Villarreal), Kalu Uche (Elazigspor), Javi Marquez (Mallorca).
Probable starting line-up (4-2-3-1): Alavarez – Javi Lopez, Forlin, Moreno, Capdevila – Victor Sanchez, Cristian Gomez – Simao, Verdu, Mubarak – Alvaro Vazquez
Prediction: Mid table finish
DEPORTIVO LA CORUNA
Deportivo La Coruna returned to where they belong after just one season in Segunda and los Blanquiazules are determined to avoid the relegation tussle this term. Andres Guardado and Diego Colotto did leave this summer, but the club management have signed some excellent players without spending a single euro. Depor have signed no less than eight quality players who are expected to challenge for a place in the starting line-up and that should help them ensure safety even before the season finale. Given that all new players arrived from Spanish-speaking countries, it is highly unlikely that they will need an extra time to adapt to the new surroundings, which could prove to be a crucial advantage over other endangered sides.
Last season: Segunda Champions
Important arrivals: Javier Camunas (Villarreal, loan), Carlos Marchena (Villarreal), Roderick, Nelson Oliveira (both Benfica, loan), Abel Aguiar (Hercules, loan), Andre Santos, Evaldo (both Sporting Lisbon, loan), Pizzi (Sporting Braga, loan),
Important departures: Andres Guardado (Valencia), Claudio Morel (Independiente), Diego Colotto (Espanyol).
Probable starting line-up (4-2-3-1): Aranzubia – Manuel Pablo, Marchena, Aythami, Evaldo – Dominguez, Aguilar – Bruno Gama, Valeron, Pizzi – Riki.
Prediction: Mid table finish
GRANADA
Grenada may have escaped the drop by a single point last term, but they are expected to fare much better this season. The club not only kept hold of key players Siqueira and Mikel Rico, but they brought some excellent players in Iriney Santos, Gabriel Torje, Youssef El-Arabi and Antonio Floro Flores, while exciting winger Fabian Orellana returned from an extremely successful loan spell at Celta. Boss Juan Anquela now has a wealth of talent at his disposal and even if the team will need some time to gel, Granada can be trusted to finish the league campaign in the middle of the standings. Their affiliate link with Udinese has allowed the club to get some very good players completely free of charge, and that could prove vital to team's survival push.
Last season: 17th
Important arrivals: Tono (Racing Santander), Gabriel Torje, Antonio Floro Flores (both Udinese, loan), Borja Gomez (Karpaty), Iriney (Real Betis), Juanma Ortiz (Rangers), Youssef El-Arabi (Al Hilal).
Important departures: Yohan Mollo (Nancy), Daniel Pudil (Watford, loan).
Probable starting line-up (4-2-3-1): Tono – Nyom, Inigo Lopez, Borja Gomez, Siqueira -Iriney, Mikel Rico – Torje, El-Arabi, Orellana – Floro Flores.
Prediction: Mid table finish
REAL SOCIEDAD
Being extremely convincing at their Estadio Municipal de Anoeta and largely struggling on the travels, Real Sociedad are one of the most predictable sides in Spain's top flight, but the club have no problem with that as long as it helps them stay alive season after season. The Basque side look destined for another mid table finish, even if they are a bit stronger than last term, having brough Jose Angel and Gonzalo Castro. The most important piece of business, however, was tying Carlos Vela to a long-term deal, with the Mexican expected to further improve on his showings this season. key players Inigo Martinez and Antoine Griezmann both remained in the club, although they cannot be expected to resist the lure of joining a big European club for much longer.
Last season: 12th
Important arrivals: Jose Angel (Roma, loan), Gonzalo Castro (Mallorca).
Important departures: Joseba Llorente (Osasuna, loan), Vadim Demidov (Eintracht Frankfurt).
Probable starting line-up (4-2-3-1): Bravo – Dani Estrada, Mikel Gonzalez, Inigo Martinez, Jose Angel – Prieto, Asier Illaramendi – Castro, Vela, Griezmann – Agirretxe.
Prediction: Mid table finish
LEVANTE
Levante proved to be the biggest surprise package of last season, having ensured final Europa League berth, leaving the likes of Osasuna, Mallorca, Sevilla and Athletic Bilbao to trail in their wake. While staying without Arouna Kone and Xavi Torres, Levante have signed no less than seven new players, all of whom seem to have enough quality to compete at this level. The Europa League campaign is likely to take some wind out of their sail, which could prevent them from achieving a top half finish, but the La Liga survival should never come into question. Levante are on the road to complete the transition from relegation strugglers to mid table side, and this season will be key to their future plans.
Last season: 6th
Important arrivals: Dariusz Dudka (Auxerre), Theofanis Gekas (Samsunspor), Christian Lell (Hertha), Pedro Rios (Getafe), Papakouli Diop (Racing Santander), Michel (Valencia), Nikolaos Karabelas (AEK Athens).
Important departures: Arouna Kone (Wigan), Xavi Torres (Getafe), Javi Venta (Villarreal).
Probable starting line-up (4-2-3-1): Munua – Lell, Ballesteros, Navarro, Pedro Lopez – Diop, Iborra – El Zhar, Barkero, Juanlu – Gekas.
Prediction: Mid table finish