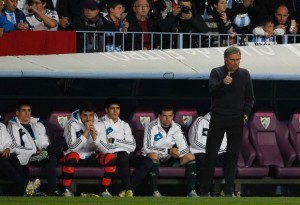 Reports from Spain suggest Real Madrid boss Jose Mourinho is set to leave Santiago Bernabeu at the end of the season, but there is every chance his departure could happen even sooner.
The Portuguese manager appears to be unable to control his dressing room, with the decision to drop captain Iker Casillas and one of the true icons of the club unlikely to have a good reception among the players.
Following the disappointing defeat to Malaga, Real Madrid are not only 16 points off the top of the standings, but also seven points behind arch rivals Atletico Madrid, so it is more than clear Mourinho's reign at the Bernabeu is drawing to a close.
Despite his poor record with los Blancos this season, the Portuguese tactician is still one of the most sought-after coaches in world football and there will be clubs lining up for his signature.
With Mourinho himself admitting he is interested in a Premier League return, it is no wonder Manchester City are 3/2 to be his next club.
The Special One is 5/2 to return to Stamford Bridge and 7/2 to replace Sir Alex Ferguson at Manchester United.
He is also 8/1 to succeed Arsene Wenger at the Emirates and 10/1 to opt for Qatari millions at Parc des Princes.