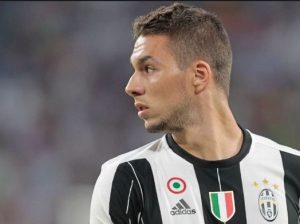 Serie A title holders Juventus are prepared to step up their interest in Liverpool midfielder Emre Can ahead of the January transfer window.
The German international has been locked in negotiations over a contract extension with Liverpool but is eying a bumper improvement to his current salary which Reds are unlikely to sanction.
With the wage issue standing as the biggest obstacle between the player and his club, rumours are slowly heating up that Emre Can is likely to leave Anfield during January and in June at the latest, once his deal with the Premier League outfit expires.
The Italian champions Juventus have not been hiding their interest in Emre Can and are expected to make an approach towards the 23-year-old next month. Juventus could even offer a January deal to Liverpool and Tuttosport reports that Bianconeri are considering adding a player of their own into the player exchange, just to sweeten the deal.
Bianconeri are said to be willing to send the Croatian wide man Marko Pjaca to Liverpool.
The 22-year-old Croatia international moved to Juventus in 2016, after winning consecutive domestic doubles with Dinamo Zagreb. His playing time in Turin has been severely limited, however, due to an anterior cruciate ligament injury he sustained back in March.
Pjaca is slowly nearing a return to full fitness and even spent last three Juventus' matches sitting on the bench.
He could be a valuable substitute option for Liverpool's first-team stars Mohamed Salah and Sadio Mane and Jurgen Klopp could be tempted to accept the Juventus' proposition.
Pjaca could be handed a run out against Verona next Saturday in a match his team Juventus stand at 13/18 betting odds to record a HT/FT Win.