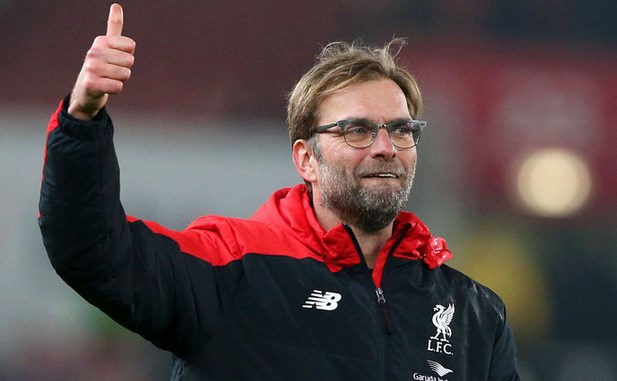 Liverpool manager Jurgen Klopp has praised his team for the win against Ajax at Anfield in the UEFA Champions League on Tuesday evening.
Mohamed Salah put Liverpool in the lead in the 17th minute.
Mohammed Kudus restored parity for Ajax on 27 minutes, but a goal from Joel Matip on 89 minutes saw the Premier League club pick up all three points from the encounter.
Klopp told Liverpool's official website after the match: "You do a lot of good stuff, we played a really good game. I don't know the exact number but I think we had 25 finishes, I heard. Which is good.
"Against a strong side, full-of-confidence side, absolutely convinced about the way they play. And we caused them a lot of problems. Our high press was good. The midfield press was good; could have been better in moments but was generally good.
"And then you concede, you are 1-0 up and you concede with the first chance of the opponent, the equaliser. So, that's what I mean it's typical, like a proper setback.
"The reaction was OK, not perfect but OK. But in half-time we told the boys that after the goal our pressing didn't look as convinced anymore as before. In these moments you only talk about a few yards or one harder sprint.
"It's not a big difference but it makes a big difference. That's what we tried to do again in the second half and it was clear that we had to keep playing football because for Ajax it was really tough to defend us today, they had to work a lot.
"You saw it immediately after half-time, it was a bit more aggression from their side – little fouls, not harsh fouls but interruptions like this. That's always a sign [of] 'OK, give us time'.
"But we did really well. We had these quick set-pieces, quick restarts with Thiago, stuff like this, where we tried to make an advantage in these moments.
"Sometimes you have to wait a bit longer. But that it was a set-piece, I think nobody was surprised because our set-pieces tonight were really good and I have no idea why we didn't score earlier from them because pretty much each set-piece was a threat.
"Great goal, then ball not in, then linesman raised his flag, which I really don't know why; maybe he saw first that the goal was in or he has it as well in his watch. Then big celebrations and the face of Joel showed exactly how we all felt in that moment."
Liverpool will return to action on October 1 when they take on Brighton and Hove Albion at Anfield in the Premier League.
The Merseyside club can be backed at 8/1 on Betfair to win the game against Brighton 3-0.