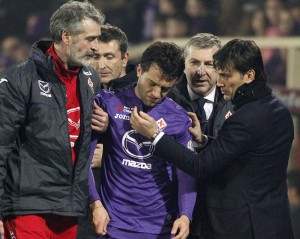 Fiorentina striker Giuseppe Rossi has revealed that he will not need a surgery on the injured knee, meaning he will be in contention to make Italy World Cup squad.
After enjoying a magnificent start to the season, the Italy international picked up a collateral medial ligament injury that was expected to keep him out for two months.
However, it was also feared that he had suffered a recurrence of an old injury that saw him miss almost two years of action before joining Viola.
Giuseppe Rossi moved to deny he would require a new surgery, following an examination made by medical specialists in Colorado.
"I am morally relieved after the meeting with Professor Steadman," Rossi wrote on his official Facebook account.
"Now I will have to work as hard as I can in rehabilitation. I'm always by your side. Forza Viola. GR."
Having scored 14 goals in 18 Serie A games this season, Rossi has been sorely missed for Fiorentina over the last few weeks, although Viola managed to stay on course for Champions League qualification.
Even though they currently sit three points adrift if third-placed Napoli, there may be value in odds of 3.75 (11/4) offered on Fiorentina to achieve a top 3 finish.