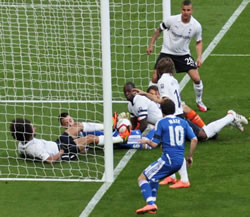 Once again referees were at the centre of controversy, this time Martin Atkinson ruling that Chelsea had scored a second goal at Wembley and William Hill think that there will be even more clamour for goal-line technology than there has been in recent weeks.
Backed in from an original 5/1, Hills now offer 11/4 that the FA introduce measures by the start of next season (1/4 that they do not).
"This season has seen a number of high profile refereeing blunders, especially in recent weeks and there will surely, once more, be a call to the FA to introduce goal-line technology," said Hill's spokesman Joe Crilly.
Meanwhile, FIFA have confirmed that they could introduce the goal-line technology very soon if the next set of tests produce expected results.
The International Football Association Board (IFAB) recently started the second round of testing and they will reach a decision on 2nd July whether the goal-line technology will be introduced or not.
"The latest planning meeting for test phase two was held on Friday, and the second phase of tests will commence before end of April, and will continue throughout May," official FIFA statement read.
IFAB is currently reviewing two separate systems – Hawkeye, a system that is already in use in Cricket and Tennis, and GoalRef, which would require all the games to be played with a special football.