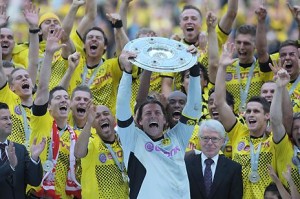 Having given my verdict on the title contenders and mid table sides in German Bundesliga Season Preview part 1 and German Bundesliga Season Preview part 2, it's time to turn our attention to teams likely to enter the relegation struggle. Newly promoted sides Augsburg and Hertha clearly face an uphill task, but few other teams could be in for a difficult season as well.
FC KOLN
Koln finished last Bundesliga campaign in 10th place, mostly thanks to the strong finish of the season, so the Billy Goats will be hoping to show some improvement and at least achieve a top table finish. That will not be such an easy task as most of the Bundesliga sides have reinforced their squads a great deal over the summer, while Koln have failed to do so. Sascha Riehter from Wolfsburg is the only notable arrival, whereas Fabrice Ehret is the only notable departure, so the team pretty much look the same as last term. The only novelty is coach Stale Solbakken, who has won five Danish Superliga titles but has yet to prove he can make it at the big stage. Koln have shown a lot of weaknesses at the start of the season, so even though I don't think they will get relegated, the Billy Goats are likely to finish the Bundesliga campaign very close to the bottom three.
Last season: 10th
Important arrivals: Sascha Riehter (Wolfsburg).
Important departures: Fabrice Ehret (Evian).
Probable starting line-up (4-2-3-1): Rensing – Brecko, Geromel, Mohamad, Andrezinho – Lanig, Riehter – Chihi, Podolski, Jajalo – Novakovic.
Prediction: Lower mid table
Pick: Koln to stay up
Odds: 1.47 (7/15) at Unibet
FC KAISERSLAUTERN
Kaiserslautern have done brilliantly in their first season upon return to the top flight, with four-match winning run at the end of the league campaign bringing them 7th-place finish. However, it is now time for the second season syndrome and there is no doubt that FCK are in for a difficult campaign. The team have been largely overachieving last season, so they will have problems finding the form that served them so well last term. The departure of top scorer Srdjan Lakic has left a big gap to fill, and even though the club have signed three new strikers, none of them look capable of topping Lakic's 16 league goals from last season. Kaiserslautern have been far from impressive in pre-season, and they do seem to lack a bit of quality in all areas of the team, so I certainly wouldn't be surprised to see them relegated to the second division.
Last season: 7th
Important arrivals: Richard Sukuta-Pasu (Bayer Leverkusen), Olcay Sahan (Duisburg), Gil Vermouth, Etey Shechter (both Hapoel Tel Aviv), Dorge Kouemaha (Club Brugge).
Important departures: Srdjan Lakic (Wolfsburg).
Probable starting line-up (4-2-2-2): Trapp – Dick, Abel, Rodnei, Jessen – Petzos, Tiffert – Sahan, Ilicevic – Shechter, Kouemaha.
Prediction: Relegation
Pick: Kaiserslautern to get relegated
Odds: 3.00 (2/1) at Victor Chandler
FREIBURG
Freiburg were thoroughly impressive last season, having spent much of the league campaign very close to the European places, although the poor finish of the season saw them slip to 9th place. The club did stay without important defender Omer Toprak, but they not only managed to keep hold of Bundesliga top scorer Papiss Demba Cisse, but also brought him a very good companion in Garra Dembele, the player who bagged 26 goals in 23 starts for Levski Sofia last term. With such a good attacking partnership at his disposal, coach Marcus Sorg, who replaced Robin Dutt, is likely to adopt a counterattacking style that should see Freiburg bring plenty of points from the travels. Their home form has been a problem last term, but as long as they win half of the home games, the team should be just fine. Another mid table finish looks likely.
Last season: 9th
Important arrivals: Daniel Batz (Nurnberg), Beg Ferati (Basel), Garra Dembele (Levski Sofia).
Important departures: Ivica Banovic (Cottbus), Omer Toprak (Bayer Leverkusen).
Probable starting line-up (4-1-3-2): Baumann – Mujdza, Ferati, Butscher, Bastians – Schuster – Putsila, Makiadi, Rosenthal – Dembele, Cisse.
Prediction: Mid table finish
Pick: Papiss Demba Cisse to win Top Goalscorer award
Odds: 17.00 (16/1) at Bet365
NURNBERG
Sixth-place finish from last season was one of Nurnberg's biggest achievements in recent history, but the club are highly unlikely to repeat such a feat. The squad have suffered major changes this summer, with several important and very experience players leaving, while talented youngsters were brought to replace them. It is more than clear that Nurnberg are building for the future, and they would probably be happy to just survive this season. The departure of key players Gundogan, Mintal, Wolf and Ekici has left a big gap to fill, so there is no doubt coach Dieter Hecking will need some time to get this team playing the way he wants them to. A slow start of the season is expected, and that could see Nurnberg enter the relegation struggle, although I believe they have what it takes to avoid the drop.
Last season: 6th
Important arrivals: Patrick Rakovsky (Schalke), Markus Feulner (Borussia Dortmund), Alexander Esswein (Dynamo Dresden), Tomas Pekhart (Jablonec), Timm Klose (Thun).
Important departures: Ilkay Gundogan (Borussia Dortmund), Mehmet Ekici (Werder), Andreas Wolf (Werder), Timo Ochs (1860 Munchen), Marek Mintal (Hansa).
Probable starting line-up (3-2-4-1): Schafer – Chandler, Nilsson, Wollscheid – Pinola, Simons – Mak, Hegeler, Feulner, Eigler – Pekhart.
Prediction: Lower mid table
Pick: Nurnberg to finish above Kaiserslautern
Odds: 1.72 (8/11) at Unibet
HERTHA
Hertha swiftly returned to the elite division after spending just one season in the second tier, with their impressive showings from last season giving the team something to build on before the new Bundesliga campaign. Despite operating on a tight budget, boss Markus Babbel produced quite a coup by signing Maik Franz, Andreas Ottl, Tunay Torun, Thomas Kraft and Peter Niemeyer, while keeping hold of amazing Adrian Ramos, who shone for Colombia at the 2011 Copa America. With the right blend of youth and experience as well as a lot of quality players at his disposal, talented coach Babel should have no problems keeping Hertha in the top flight, and if things fall into place early on, the team from Berlin could even enter the race for the top half finish.
Last season: Bundesliga 2 champions
Important arrivals: Andreas Ottl, Thomas Kraft (both Bayern), Maik Franz (Eintracht), Tunay Torun (HSV), Peter Niemeyer (Werder).
Important departures: Valeri Domovchiyski (Duisburg).
Probable starting line-up (4-2-2-2): Kraft – Lell, Hubnik, Franz, Kobiaschwili – Niemeyer, Ottl – Ebert, Raffael – Ramos, Lasogga.
Prediction: Lower mid table
Pick: Hertha to finish above Koln
Odds: 1.90 (9/10) at Unibet
AUGSBURG
Augsburg surprised everyone by gaining promotion to Bundesliga, but they will certainly produce a major shock if they manage to stay alive this term. The club were expected to significantly reinforce the squad before their maiden Bundesliga campaign, but they did no such thing, which makes them main candidates for the drop. Squad players Traore, Sinkiewicz and Kwakman all left this summer, while Lorenzo Davids, Sebastian Langkamp and Sascha Molders were the only notable arrivals, and it is more than clear that Augsburg now don't have enough quality to play at this level. With the squad mostly consisting of players with no Bundesliga experience, Augsburg look to have bitten much more than they can chew and I am pretty sure nobody will be surprised to see them return to the second division.
Last season: 2nd in Bundesliga 2
Important arrivals: Lorenzo Davids (NEC), Sebastian Langkamp (Karlsruher), Sascha Molders (FSV Frankfurt).
Important departures: Ibrahima Traore (Stuttgart), Lukas Sinkiewicz (Bochum), Kees Kwakman (Groningen).
Probable starting line-up (4-2-3-1): Jentzsch – Verhaegh, Callsen-Bracker, Mohrle, de Jong – De Roeck, Davids – Ndjeng, Baier, Werner – Molders.
Prediction: Relegation
Pick: Augsburg to get relegated
Odds: 2.10 (11/10) at Bet365
Read More:
German Bundesliga Preview Part I
German Bundesliga Preview Part II