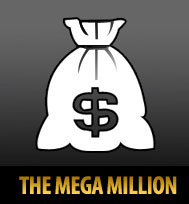 This March, Play Aces poker room is bringing you the Mega Million point's race! Don't miss your chance at over 12,000 individual CA$H prizes totaling over $1,000,000. The more points you can earn at any real money ring game table or tournament, the more FREE cash you're going to get paid:
Top Prize of $25,000 Cold Hard Cash
Over $1,000,000 in Cash Prizes to be Won!
Over 12,000 Cash Prizes to be awarded!
No Play Through Requirements on Cash Prizes!
Prizes paid in real-time
How it Works:
From Tuesday, March 1st until Thursday, March 31st we'll track the number of VIP Points that you earn at any of our real money ring game or tournament tables. You'll be able to view your point totals through your Poker Admin in the poker client.
Using the prize table on their website, as you earn VIP points you'll make your way through the 15 levels. Each time you reach a level you'll immediately receive the corresponding cash prize. Your point total will then reset to 0 and you're on to the next level.
For example, once you've earned 250 VIP points you've met the level 1 requirement and you'll receive $2.50. Your VIP point total will then reset to 0 and you're now working your way towards level 2 (500 points) to collect your $5. Your VIP point total will reset to 0 and so on.
Tips To Win Big
You can increase the amount of VIP points you earn quite easily over the one month period without having to spend hours and hours grinding it out at the tables. Here are a few tips to help you win more!
Play an Extra SitnGo
If you are a regular player you know that earning VIP Points is easy. Playing an extra SitnGo tournament each day can really increase your VIP Points. Since the promotion runs for a month, you'll be surprised at how many extra points you can rack up over time.
Up Your Stakes
If you're a low limit player, consider increasing your regular stakes for a few tournaments or sessions per week. Higher stakes mean more VIP Points. When you think about the difference in prizes from one tier to the next, upping your stakes pays for itself in no time.
Click here to visit Play Aces now.