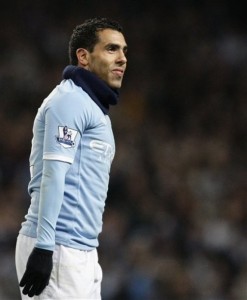 Argentine forward Carlos Tevez has once again failed to confirm that he will be playing for Manchester City next season.
The Argentina international is reportedly unsettled at Eastlands and he is widely expected to leave Manchester City at the end of the season.
The 27-year-old is currently in Argentina, where he has organized a charity event to raise money for his local community in Buenos Aires.
"Yes, there is a prize to come over to Manchester to watch a game but that doesn't mean anything. It could still change," Tevez told the Daily Mail.
"Maybe the trip will end up being to somewhere else in Europe or Argentina. I don't know. But for now I've got a contract with Manchester City, so that's where the trip is to."
"It is great being here but it is going to be even more difficult going back now. It's great now, enjoying spending time with my family but it will be tough to go back."
World famous bookmaker Victor Chandler also believes Tevez will leave City this summer and they pay 1.36 (4/11) on the Argentine to leave the club in the next transfer window, while Tevez is 3.00 (2/1) to remain at Eastlands.