Horse Race Analysis
All Major US Races
Accepts US Players

Register Now

£25 Free Bet
Live Racing Online
Many Cashbacks

Register Now

Horse Form & Stats
Lots of Promotions
Free Live Stream

Register Now
Belmont Stakes Betting
Most of us get thrilled by watching exciting sports events such as horse racing. Among the races that a lot of Americans and people from different parts of the globe look forward to is the Belmont Stakes. This event is a Grade I American Thoroughbred race which is annually held in New York's Belmont Park every June. This race is participated by thoroughbreds that are 3 years of age and they race a length of 1.5 mile or 2.4 km. Fillies need to carry 121 pounds while geldings and colts need 126 pounds. The Belmont Stakes is the US Triple Crown's third and last leg and is held exactly 3 weeks after the Preakness Stakes and 5 weeks after the Kentucky Derby. This is usually scheduled on a Saturday between June 5 and 11. This event is participated by a lot of people, mostly horse racing fans and those who participate in the Belmont Stakes betting. The race's attendance ranks 4th in North America and is the most attended race among all the other stakes races.
Horse Racing Ranking
Bonus
US
Bonus
Match
Min.
Deposit
Rating
Review/
Play Now
Victor Chandler
- Early Prices
- Radio
£25
100%
£5
5

The Best!
Paddy Power
- Live Commentary
- Results
€50
100%
€5
4.5

Superb!
Betfair Racing
- Racing News and Tips
- Form/Results/Stats
£25
100%
£10
4.5

Superb!
William Hill
- Racing Post
- William Hill TV
£25
100%
£10
4.5

Superb!
Latest Belmont Stakes Winners
| | | | | |
| --- | --- | --- | --- | --- |
| Year | Winning Horse | Jockey | Trainer | Owner |
| 2012 | Union Rags | John Velazquez | Michael Matz | Phyllis M. Wyeth |
| 2011 | Ruler on Ice | Jose Valdivia, Jr. | Kelly Breen | George and Lori Hall |
| 2010 | Drosselmeyer | Mike Smith | William Mott | WinStar Farm LLC |
| 2009 | Summer Bird | Kent Desormeaux | Tim Ice | Kalarikkal & Vilasini Jayaraman |
| 2008 | Da'Tara | Alan Garcia | Nick Zito | Robert V. LaPenta |
Participating in Belmont Stakes Races & Wager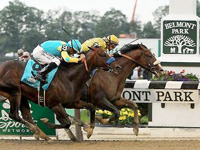 The Belmont Stakes is one of the most thrilling events in the racing calendar as the horses that have won in both the Preakness Stakes and Kentucky Derby compete for horse racing glory. They need to race against each other and finish first if they would like to win. This makes Belmont Stakes betting very challenging and exciting because you need to select the best among the best. The winner of the Belmont Stakes is usually regarded as among the best horses in racing history. Winning both the Triple Crown and the Belmont Stakes can be very difficult and is usually rare and a lot of participants have tried their best but failed. There are only a few participants who have successfully obtained a win on the Triple Crown and the last successful participant raced way back in the 1970s.
Of course, just like any other races and any other types of betting, there are several things that you need to consider if you want to win. Apparently, you need to choose the horse that is properly trained, adequately feed and has a good track record, however, you need to consider some other factors too. The jockey place a very important role during a race so it will be really vital for you to select a good pair, and by a good pair we mean an excellent jockey and an excellent horse. You also need to do a bit of research and know the strengths and weakness of all the other horses as this may change your mind. The weather and the position of the horse are also some important factor that you need to consider.
If you want to win, you just cannot rely on pure luck. Winning on the Belmont Stakes betting requires you to understand the race and know the participants. Since this is usually referred to as a competition of the best horses, you need to put into mind that every horse has a chance at winning.
More Belmont Stakes information:

Location: Belmont Park, Elmont, New York, USA
Address: Belmont Park, 2150 Hempstead Turnpike, Elmont NY 11003, USA (see map)
Phone: +1 516-488-6000
When: Every year in June
Race Type: Thoroughbred
Distance: 1 and a half miles (12 furlongs)
Website: http://www.belmontstakes.com/