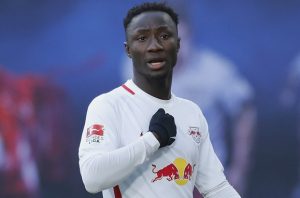 RB Leipzig star Naby Keita is believed to be making quite a pressure on his employers to let him move to Liverpool this summer.
The Guinea international central midfielder has reportedly reiterated his desire to move to Anfield and is ready to force his move to the Premier League is the Bundesliga hot-shots refuse to sell him.
Keita has become the key focus of Liverpool's transfer activity over the last couple of weeks with Jurgen Klopp believed to be prepared to go the extra distance and crush another club transfer record to land the versatile midfielder.
After the £36.9 million signing of Mohamed Salah from AS Roma, the Reds are once again willing to dig deep into their pockets in order to secure the services of a football who is valued around £70 million.
And with Klopp wanting the 22-year-old 'at all costs' Keita is doing his fair share to convince RB Leipzig to sanction the transfer.
Keita reportedly met club officials twice this week and Amadou Makadji, a sport journalist from Guinea, has provided vital update in Keita's case by claiming that Klopp has been in direct contact with the player for a while.
In the meantime, RB Leipzig have revealed the club's new kit on Monday and Keita was not involved in the reveal which only added fuel to the Liverpool rumours.
Makadji believes RB Leipzig are beginning to crumble under the pressure and that Keita could be on his way to Anfield this summer after all.
The 22-year-old Guinea international made 29 Bundesliga appearances for RB Leipzig and 32 across all competition, adding 8 goals and providing 7 assists in a highly successful 2nd-place finish in Germany last term.