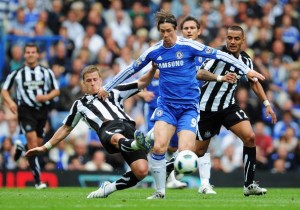 Celebrate the start of the 2012/13 Premier League season in style, with 2 VIP tickets to Stamford Bridge!
After what seemed to be an exceedingly long 3 month wait, it's finally here! Sure we had a few frolics with the Euros, Jubilee and Olympics, but now it's time to get back to business; it's time to kick off the start of the new Premier League season!
To celebrate, 888sport are rolling out yet another fantastic leader board promotion! Be the top finisher in their "Race 2 Stamford Bridge" promotion and earn yourself a pair of VIP tickets to see Chelsea vs. Newcastle United on August 25th. But that's not all, they are dishing out Free Bets to the 2nd – 10th placed finishers as well!
Below is a breakdown of the prizes for the TOP 10 FINISHERS on the leaderboard:
1st Place: 2 VIP Tickets to Chelsea vs. Newcastle.
2nd Place: £200 Free Bet
3rd Place: £100 Free Bet
4th Place: £75 Free Bet
5th Place: £50 Free Bet
6th Place: £25 Free Bet
7th Place: £20 Free Bet
8th Place: £15 Free Bet
9th Place: £10 Free Bet
10th Place: £5 Free Bet
What do I have to do to win? Simply:
*Deposit at least £/€/$10 using promotion code: Chelsea1
*Place a multiple bet of at least £/€/$1 on any sport or market offered at 888sport.
*The highest winning multiple bet return (to a £/€/$ unit) from 13/08/12 – 19/08/12 (00:00 – 23:59 BST) will be deemed the overall winner.
The leader board will show the top multiple bet returns to a £/€/$1 unit and will be updated daily.
You can have as many multiple bets as you like to try and top the league from 13/08/12 – 19/08/12 (00:00 – 23:59 BST) – but only your best return will count for the purposes of the competition.
Click here to visit 888sport now. Follow the results and check your position on the leader board! Good luck!