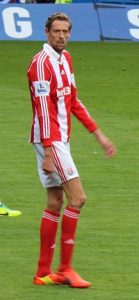 Stoke City striker Peter Crouch has been inducted into the Guinness World Records book after scoring 51 headers in English Premier League.
Previous record was held by Newcastle United legend Alan Shearer with 46 goals, but the towering striker has now surpassed the achievement.
The 36-year-old scored 105 Premier League goals playing for six different clubs, with 51 of those goals scored with his head.
"If you are a centre-forward, you should be in the box, ready for the ball," said Crouch.
"That is the way I have always played my game and that will never change. I see centre-forwards hanging around outside the box and it blows my mind, I just can't get my head around it."
Peter Crouch is now in the closing stage of his career, but 2 goals in 5 substitute appearances this season are enough to suggest he is not ready to hang up his boots just yet.
The highly rated striker also boasts an impressive England record, having bagged 22 goals in 42 caps between 2005 and 2010.