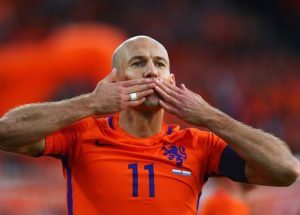 The Netherlands star winger Arjen Robben announced his international retirement after scoring both goals in his country's 2-0 win over Sweden.
Arjen Robben scored his first goal of the night with a Panenka from the penalty spot while he doubled the lead for his country with a superb first-time shot from the edge of the box.
Robben's brace at the Amsterdam ArenA was insufficient to see the Netherlands clinch the 2018 FIFA World Cup spot with Sweden securing a play-off place thanks to a superior goal difference.
The Dutch needed to score at least five more goals in order to qualify for the World Cup but Sweden held their lines firmly in the second half to move on into the final stage of the qualifying process.
And with the final whistle marking the end of the match the Amsterdam ArenA crowd rose to its feet for a standing ovation for the 33-year-old winger, chanting 'Arjen, thanks' in Dutch.
The 2018 FIFA World Cup is the second major tournament Netherlands are missing out on after failing to qualify for Euro 2016.
And with his country out of the picture for the final showpiece in Russia, Robben is ready to make way for younger players to take his place in the national team and wants to focus on his club career.
"I'm 33 years old now. I'm playing at a top club in Europe and I want to concentrate on it now. It's also a good time to hand over the baton. I still feel very good and want to be at the top as long as possible.", Robben said.
Robben played at the 2006, 2010 and 2014 World Cups took part in total six major international tournaments. He scored 37 goals in 96 appearances throughout his international career which lasted 14 years.
"I am very proud and honoured at my six tournaments. The most beautiful moments for me were the World Cups of 2010 and 2014, in which we were really a close team and a close group. But there are many beautiful moments, fourteen years is a long time.", he added.
The Bayern Munich star endured a difficult time over the past couple of years with injury problems but is proud to move on and extend his professional career as much as he can.
"The man of glass has lasted the longest,", he commented.